Spring/Summer 2016 Issue
The following content is part of the Spring/Summer 2016 Issue. Articles that are in this issue contain information about the biblical truth about self-righteousness, learn how false preachers are twisting grace, find out if it is right for women to speak, teach, or preach in the church, learn what it means to be saved in childbearing, and much more.
full course
Thinking About Leaving God? Read This…
Estimated Reading Time: 8 minutes
The Lord promises, "If you seek Me early, you will find Me."
I love them that love Me; and those that seek Me early shall find Me. ~Proverbs 8:17 KJV
Jesus is not a figment of someone's imagination or a concocted story. He wasn't just a prophet.
Jesus is the savior of the world. I know this because I found out that Jesus is real and alive.
How did I find this out?
Well, He promised it before I knew it was a promise, but I just happened to act diligently on what His Word said in the New Testament of the Holy Bible.
Remember, the Lord says,
"If you seek Me, you will find Me."
Do you want to know if there is a God or if there is a heaven or hell? The path to knowing is easy, just seek Jesus because He promises that you will find Him. It all starts with believing and that is faith.
Faith means you don't have to be a Bible scholar to know if He exists.
God made it simple for all to come to Him like a child. Just believe and seek Him.
[11] "For I know the thoughts that I think toward you," saith the Lord, "thoughts of peace, and not of evil, to give you an expected end. [12] Then shall ye call upon Me, and ye shall go and pray unto Me, and I will hearken unto you. [13] And ye shall seek Me, and find Me , when ye shall search for Me with all your heart." ~Jeremiah 29:11-13 KJV
Did you know that God actually hides Himself from those who are trying to complicate how to find out if there is a God?  Their wisdom is foolishness to Him.1
They call themselves "thinkers" (by referring to scientific theories) and they say, "Prove it."
Unfortunately, certain unbelievers are unable to figure out that a simple act of having child-like faith is the ultimate answer. Just have faith in God's promises.
Faith means that you could be mentally-challenged and yet, still have an opportunity to know that God exists.
They say, "I'll believe it when I see it."
Sadly, they also do not realize that God already came down to earth through the man, Jesus Christ—and some still did not believe their own eyes even after He worked the mighty works of God.  Today, scientists have discovered tons of historical evidence that matches the Bible, but the most outstanding evidence is discovering that God exists through His instruction that promises you will find Him.
They don't want to hear preaching because they unknowingly serve the devil whom they decide doesn't exist.
[3] But if our gospel be hid, it is hid to them that are lost: [4] In whom the god of this world hath blinded the minds of them which believe not, lest the light of the glorious gospel of Christ, who is the image of God, should shine unto them. ~2 Corinthians 4:3-4 KJV

But the natural man receiveth not the things of the Spirit of God: for they are foolishness unto him: neither can he know them , because they are spiritually discerned. ~1 Corinthians 2:14 KJV
They expect God to come to them.
God is God, not a man.  These people do not consider—in their thinking brains—that if you want to find God, you need to respect God as God.  He is a king.  He is a lord.  We ought to know our place to treat God with the utmost respect.  Instead, these people expect God to come to them as if He is their pet.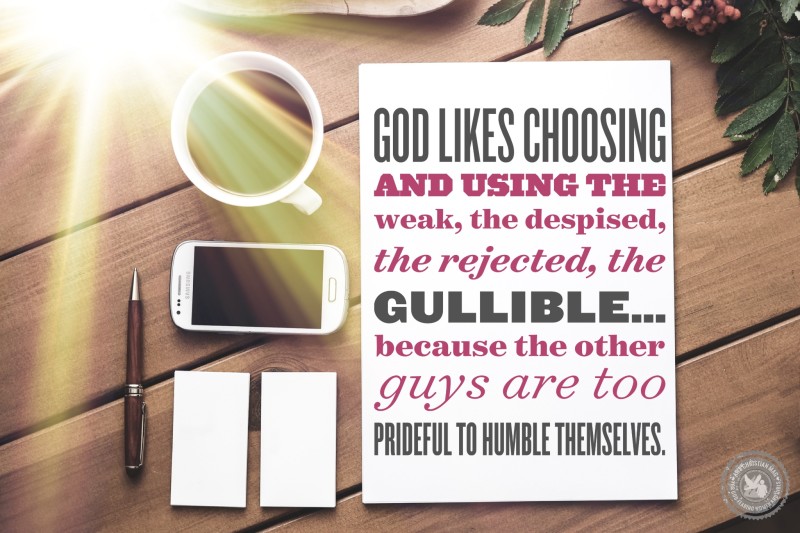 [22] Professing themselves to be wise, they became fools, [23] And changed the glory of the uncorruptible God into an image made like to corruptible man, and to birds, and fourfooted beasts, and creeping things. [24] Wherefore God also gave them up to uncleanness through the lusts of their own hearts, to dishonour their own bodies between themselves: [25] Who changed the truth of God into a lie, and worshipped and served the creature more than the Creator, who is blessed for ever. Amen. ~Romans 1:22-25 KJV  [These scriptures tell how these people end up becoming sexually promiscuous, sexually unclean, and  further scriptures go on to say that they even become homosexuals.]
Some of them even create their own version of God.
False Christians:  [18] (For many walk, of whom I have told you often, and now tell you even weeping, that they are the enemies of the cross of Christ: [19] Whose end is destruction, whose God is their belly, and whose glory is in their shame, who mind earthly things.) ~Philippians 3:18-19 KJV

Unbelievers: [10] This evil people, which refuse to hear my words, which walk in the imagination of their heart, and walk after other gods, to serve them, and to worship them, shall even be as this girdle, which is good for nothing. ~Jeremiah 13:10 KJV
Have a solid faith in Jesus. Get baptized the biblical way by full submersion. Go after Him and you will get the promise. Then, you too will proclaim, "Jesus Christ is actually alive" and "Yes, there is only one, true God."
[15] "Verily thou art a God that hidest Thyself, O God of Israel, the Saviour. [16] They shall be ashamed, and also confounded, all of them: they shall go to confusion together that are makers of idols. [17] But Israel shall be saved in the Lord with an everlasting salvation: ye shall not be ashamed nor confounded world without end. [18] For thus saith the Lord that created the heavens; God Himself that formed the earth and made it; He hath established it, He created it not in vain, He formed it to be inhabited: 'I am the Lord ; and there is none else. [19] I have not spoken in secret, in a dark place of the earth: I said not unto the seed of Jacob, 'Seek ye Me in vain:' I the Lord speak righteousness, I declare things that are right. [20] Assemble yourselves and come; draw near together, ye that are escaped of the nations: they have no knowledge that set up the wood of their graven image, and pray unto a god that cannot save. [21] Tell ye, and bring them near; yea, let them take counsel together: who hath declared this from ancient time? who hath told it from that time? have not I the Lord? and there is no God else beside Me; a just God and a Saviour; there is none beside Me. [22] Look unto Me, and be ye saved, all the ends of the earth: for I am God, and there is none else. [23] I have sworn by Myself, the word is gone out of My mouth in righteousness, and shall not return, That unto Me every knee shall bow, every tongue shall swear.' [24] Surely, shall one say, 'in the Lord have I righteousness and strength: even to Him shall men come; and all that are incensed against Him shall be ashamed. [25] In the Lord shall all the seed of Israel be justified, and shall glory.'"
Further reading: Read about the difference between those who listen and believe the Lord and those who don't in Proverbs 1:22-33 KJV. 
Cite this article: Please update the Accessed or Retrieved date (September 13, 2015).
MLA
Chicago
APA
About the Author
More Posts by This Author
"Thinking About Leaving God? Read This." AWS Magazine Online. Ed. Bobbie Chariot. Savior Sanity LLC., 1 Mar. 2016. Web. 13 Sept. 2015. <https://awomansaved.com/thinking-about-leaving-god-or-christianity-or-jesus>.
"Thinking About Leaving God? Read This." AWS Magazine Online. March 1, 2016. Accessed September 13, 2015. https://awomansaved.com/thinking-about-leaving-god-or-christianity-or-jesus.
Chariot, B. (Ed.). (2016, March 1). Thinking About Leaving God? Read This. Retrieved September 13, 2015, from https://awomansaved.com/thinking-about-leaving-god-or-christianity-or-jesus.
Thank you for reading!
Bobbie Chariot
Bio: Founding Editor