Autumn/Winter 2015-16 Issue
The following posts are part of the Autumn/Winter 2015-16 Issue. Articles that are in this issue contain information about Knowing Your Enemy the devil, find out how not to use God's love as an excuse, learn God's definition of homosexuality, discover if you are a light of the world, plus topics on how to be a modest woman and a godly, submissive wife.
full course
Moment of Truth: Casting Down Lies #3
Estimated Reading Time: 5 minutes
"Preach the Word. When necessary, use words." ~St. Francis of Assisi
Are you believing this lie?
With all due respect, St. Francis meant well, but what was he thinking?  Jesus' whole walk was about preaching with the words of the wisdom of God that were coming out of His mouth.  In fact, Jesus is the Word.
Words are meant to be spoken.  In the past few years, it seems like the Christianity walk exudes "just believe in Jesus and be really nice without offending anyone."  What a convenient lie to help people to not take up their cross and die.
When Jesus took up His cross, He was walking to His crucifixion. He preached with words by speaking directly and figuratively. He healed with a word even by speaking in tongues.2epthatha With words, He scolded hypocrites and rebuked devils doing all this "in the Spirit," which does not mean that He said it nicely, but rather doing what was pleasing to the Father.
Ye serpents, ye generation of vipers, how can ye escape the damnation of hell? ~Matthew 23:33 KJV [Read more hypocrite rebuke in this chapter.]
Why Preach?
Preaching in the power of God is not in earthly wisdom, but in God-given wisdom. This is why preaching does not often make sense to the world because the world looks for the human-based, scientifically-educated response rather than the faith response.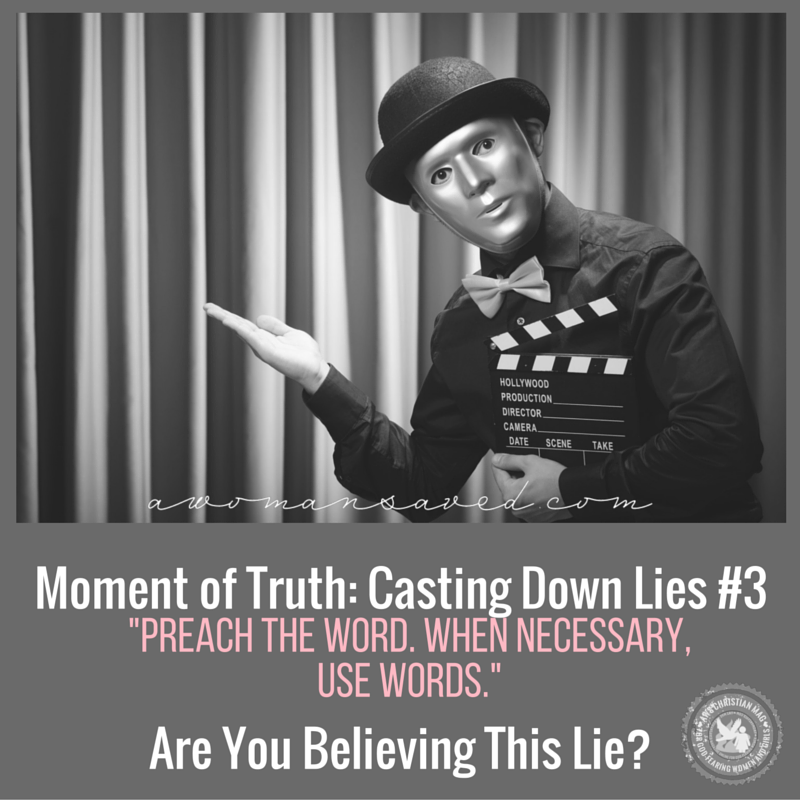 This passage below explains the difference between man's wisdom of words and the godly wisdom of the preaching of the cross. In other words, men who do not know God, use man's wisdom to try to figure God out. This is quite ignorant because they cannot see how they are reducing God to an element beneath them that can be theoretically deciphered. This is why "saving" comes by faith and belief in the gospel preached by God's preacher.
[17] For Christ sent me not to baptize, but to preach the gospel: not with wisdom of words, lest the cross of Christ should be made of none effect. [18] For the preaching of the cross is to them that perish foolishness; but unto us which are saved it is the power of God. [19] For it is written, 'I will destroy the wisdom of the wise, and will bring to nothing the understanding of the prudent.' [20] Where is the wise? where is the scribe? where is the disputer of this world? hath not God made foolish the wisdom of this world? [21] For after that in the wisdom of God the world by wisdom knew not God, it pleased God by the foolishness of preaching to save them that believe. ~1 Corinthians 1:17-21 KJV
Paul tells his Christian son, Timothy,
[2] Preach the Word; be instant in season, out of season; reprove, rebuke, exhort with all longsuffering and doctrine. [3] For the time will come when they will not endure sound doctrine; but after their own lusts shall they heap to themselves teachers, having itching ears; [4] And they shall turn away their ears from the truth, and shall be turned unto fables. [5] But watch thou in all things, endure afflictions, do the work of an evangelist, make full proof of thy ministry. ~2 Timothy 4:2-5 KJV
The definition of the word preach:
: to make a speech about religion in a church or other public place : to deliver a sermon
: to write or speak about (something) in an approving way : to say that (something) is good or necessary
: to write or speak in an annoying way about the right way to behave
Umm… makes you wonder who wrote that third definition. Perhaps the same people who say,
"Don't be preachy"
or "Don't preach hell-fire and damnation"
or "Your preaching is too direct, sugar-coat it— and while you're at it, let's throw a party and invite sinners so they can see how cool we are. Oh wait, we're all sinners."
Preaching is about warning so that people will repent and be saved. Preaching is about the good news that saves people from their wicked sins. Preaching is also about reminding so that Christians will remain steady, faithful, and fearful in their walk with God and one another. Therefore, the Apostle Paul's message in the above scripture is:
It is always necessary to preach the Word—using words, by the power of God, but be warned because people will turn their ears away because they've been taught by their teachers to believe lies. 
Cite this article: Please update the Accessed or Retrieved date (September 13, 2015).
MLA
Chicago
APA
About the Author
More Posts by This Author
"Moment of Truth:  Casting Down Lies #3." AWS Magazine Online. Ed. Bobbie Chariot. Savior Sanity LLC., 1 Mar. 2016. Web. 13 Sept. 2015. <https://awomansaved.com/moment-of-truth-casting-down-lies-3-preach-the-word-when-necessary-use-words>.
"Moment of Truth: Casting Down Lies #3." AWS Magazine Online. March 1, 2016. Accessed September 13, 2015. https://awomansaved.com/moment-of-truth-casting-down-lies-3-preach-the-word-when-necessary-use-words.
Chariot, B. (Ed.). (2016, March 1). Moment of Truth: Casting Down Lies #3. Retrieved September 13, 2015, from https://awomansaved.com/moment-of-truth-casting-down-lies-3-preach-the-word-when-necessary-use-words.
Thank you for reading!
Bobbie Chariot Bio: Founding Editor