A Woman Saved Blog | AWS Christian Mag-ezine
The "A Woman Saved" Blog has editorial and op-ed posts about announcements, writing, and response from a Christian perspective.
(All submissions for the blog must go through Submissions.)
full course
Misguided Patriotism: Pro-Gun Christians
I don't have a problem with Christians who use their guns to hunt animals, but I do have a problem with Christians who advocate avoiding restrictions to gun laws and who arm themselves claiming to be ready to "lay down their life."  The reason I have a problem with it is because God has a problem with it.
Jesus said that to look with lust is committing adultery, so how much more is murder by shooting at an image of someone's head or even imagining it?
What Does Their Target Look Like?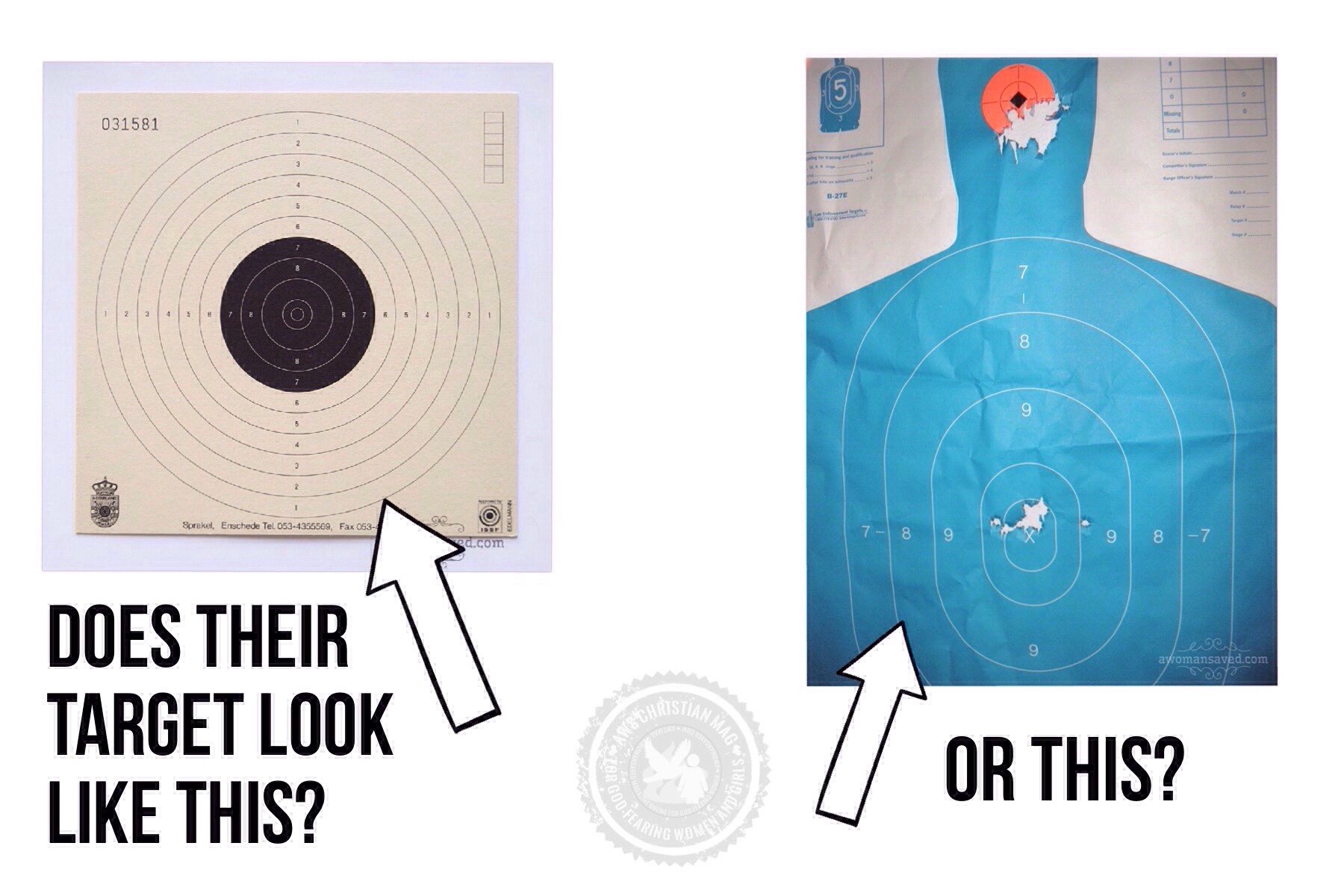 Nothing is worse than a killer who calls him or herself a Christian because a Christian is living a new life in Christ, not an old life in retaliation. Sometimes they are even Pro-Life, which makes them hypocrites because they twist the Lord's "laying down one's life" scripture into an excuse to protect their family by murderous intent.
If that were the case, then a suicide bomber would be more justified as well as every gang member who fought to protect his own.
Recompense to no man evil for evil. Provide things honest in the sight of all men. ~Romans 12:17 KJV

If it be possible, as much as lieth in you, live peaceably with all men. ~Romans 12:18 KJV

Dearly beloved, avenge not yourselves, but rather give place unto wrath: for it is written, 'Vengeance is mine; I will repay,' saith the Lord. ~Romans 12:19 KJV

Therefore if thine enemy hunger, feed him; if he thirst, give him drink: for in so doing thou shalt heap coals of fire on his head. ~Romans 12:20 KJV

Be not overcome of evil, but overcome evil with good. ~Romans 12:21 KJV
As you can see, all of these scriptures came directly out of Romans 12 and they speak of avoiding retaliation.
Don't claim Christianity if your solution to protection is taking the life of someone else.
Twisting scripture like these people do is shockingly spread by highly ignorant, yet highly educated, people and it gives others an excuse to say that our God is the same as well… Islam's.
Another Example Out of Jesus' Mouth
Right after Judas set Jesus up to be betrayed and arrested by authorities of the Jewish high priest, Peter—clearly an avid musketeer before becoming a Christian— skillfully lopped off the ear of the Lord's enemy.
He did this without chopping his head off or slicing into the man's shoulder.
This disciple, Peter, obviously knew how to fight and was well-trained as a swordsman.  Plus, the only reason Peter had a sword that night is because Jesus had to be numbered with the transgressors—meaning sinners1So the scriptures could be fulfilled. — so the Lord told His disciples to take up the stuff, swords included, that He told them earlier to put down, but He did not want them to use them.  We see that in the testimony of Luke where Jesus quickly responded to Peter's act of protection by healing the ear that Peter chopped.
And Jesus answered and said, 'Suffer ye thus far.'  And He touched his ear, and healed him. ~Luke 22:51 KJV
Now we could take this to mean that Jesus told Peter not to do it. However, I think Jesus' answer to Peter was–Look at Me while I heal this man and ask him to forgive you for chopping his ear off.  The word suffer indicates to let fall, to forgive, to send away, or to get rid of, from the greek word aphiêmi.
Here's another testimony of that moment by Matthew,
[51] And, behold, one of them which were with Jesus stretched out his hand, and drew his sword, and struck a servant of the high priest's, and smote off his ear. [52] Then said Jesus unto him, "Put up again thy sword into his place: for all they that take the sword shall perish with the sword. [53] Thinkest thou that I cannot now pray to My Father, and He shall presently give Me more than twelve legions of angels? "~Matthew 26:51-53 KJV
I love how Jesus is so straight-forward as he rebukes Peter.  We can see where Jesus put His faith.
Later, when Jesus was delivered to Pilate, He spoke to him with a similar saying,
Jesus answered, 'My kingdom is not of this world: if My kingdom were of this world, then would My servants fight, that I should not be delivered to the Jews: but now is My kingdom not from hence. ~John 18:36 KJV
As Christians, where is our kingdom?
Remember, the government was on Jesus' shoulders. This means it was His burden.  He showed us how we ought to react as He did.  He showed us that His servants are not people who fight with carnal extremism.  He literally laid down His life in righteousness, not in "Say hello to my little friend."2Scarface movie quote Otherwise, those who do this evil are not His servants.
In the previous scripture, Jesus was referencing physical warfare.  We know through Him that we fight our battles spiritually rather than carnally.
(For the weapons of our warfare are not carnal, but mighty through God to the pulling down of strong holds;) ~2 Corinthians 10:4 KJV
Patriotic or Idiotic?
When people argue against gun control, while claiming to be a pro-gun Christian, their focus lies on their rights in the world, which they call "God-given," because they would rather live a lie— especially regarding the facts of what a lack of gun-control has caused.
We have all been told by them that our freedoms would be taken away if we allow restrictions on guns, but this is a gargantuan myth from people who are not interested in the gospel truth.  These people fear government controls, but do not realize that unregulated gun access leads us toward more deaths, armed schools, and highly aggressive, militarized police officers because the authorities are pressed to keep up with society's lack of control.
Do I seriously need to post links to the dramatically increased gun violence and mass shooting incidents that have occurred in the last couple of years? Everyone knows it— unless they have a serious problem.
This is not the life our Lord intended for us.  These insane people who declare Christianity, but dismiss controls, are ultimately creating a lack of freedom in our land showing that they are the most ungodly and the least patriotic.
Our problem is not about protecting the Constitution, our problem is forgetting about God because He is what supports the Constitution.
Fight harder for your conspiracy theory.  The rest of us will fight for the gospel truth.
"Spinning" Out of Control
We live in a democracy that gives us the right to vote people into office and out of office.  No one is taking that right away so to proclaim that adding restrictions to guns means that guns will ultimately be banned is brutish and cultish.  Even in commercials, prescription drug companies do a better job of acknowledging death rates that are blatantly obvious and those who refuse to do the same are in complete denial.
Nobody wants your guns. What people want are regulations for minors, the unlawful, and the mentally disturbed. If you are in one of those categories, you should not have a gun.
God Created Law
Did you know that Christians are still under laws? Oh yes they are, just look at the law of faith and law of the Spirit. Both fulfill the original law as well as the two most important commandments3 A commandment is a rule or law..
If ye fulfil the royal law according to the scripture, 'Thou shalt love thy neighbour as thyself,' ye do well: ~James 2:8 KJV

Owe no man any thing, but to love one another: for he that loveth another hath fulfilled the law. ~Romans 13:8 KJV
Did you know that what goes up must come down?

Did you know that some states have dry counties?  (It is a county where alcohol is not allowed.)

Did you know that it is illegal to drive without a license?

Did you know that people cannot legally drink alcohol until they are 21?

Did you know that movies have ratings to protect the viewer?

Did you know that drones must be registered with the government?
Oh no! Let's all freak out, a dictatorship is coming!
If God holds us to a higher standard through His laws, it should be a clear indication that enforcing law and guidelines are necessary.  Those who say that enforcing laws doesn't help are contradicting God's design because they do not know Him, fear Him, nor lean on Him.
It is clear what they do; they put their faith in their guns because they are hypocrites.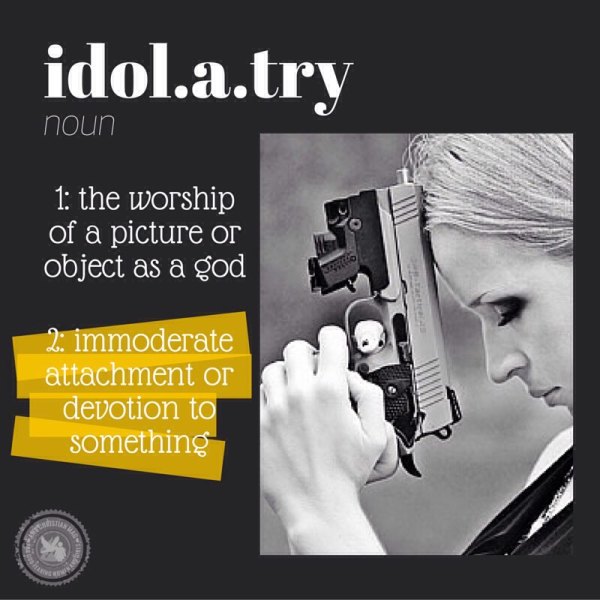 Blessed are they that do His commandments, that they may have right to the tree of life, and may enter in through the gates into the city. For without are dogs, and sorcerers, and whoremongers, and murderers, and idolaters, and whosoever loveth and maketh a lie. ~Revelation 22:14-15 KJV