A Christian Devotional Recipe for Gingerbread Men Icecream Cookie Sandwiches
I know that nobody wants to hear this, but Christians are supposed to work on perfection. As a matter of fact, the Bible hopes for our perfection.
Nothing is wrong with perfection. What hurts perfection are malfunctions of inner or outer circumstances. However, perfection is achievable.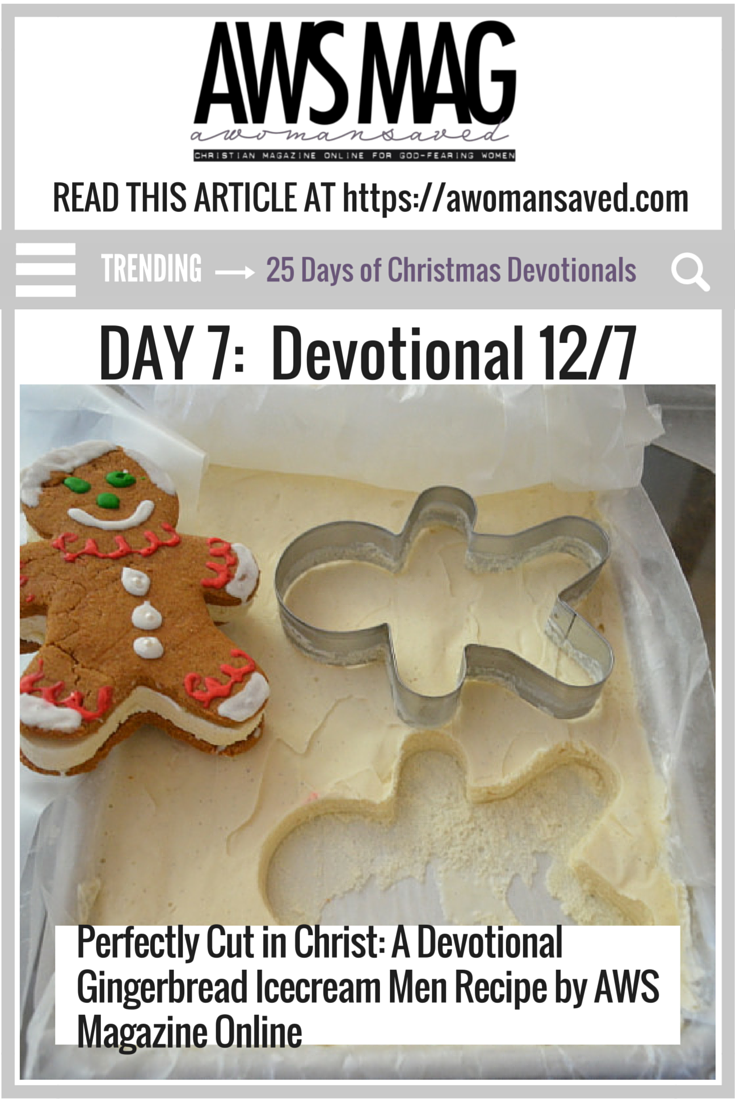 For instance, when making gingerbread men— if you desire uniformity— all your cookies are going to be cut with a cookie cutter. This ensures that each cookie is perfect.
Beyond this, even assembly lines can teach us a lot about why perfection is a good thing because they create exceptional results.
In the same way, God's design is not random. Even science can show you that there are laws that are specific. Just like His Word, which is very specific about the instructions for righteousness and holiness. All we must do is follow the instructions perfectly. This will ensure that we will be perfectly cut to His mold.
The disciple is not above his Master: but every one that is perfect shall be as his Master. ~Luke 6:40 KJV
Gingerbread Men Icecream Cookie Sandwich
To make the AWS MAG Gingerbread Men Icecream Cookie Sandwich recipe, simply follow the instructions below.  This is a two-day process.
Ingredients:
3/4 cup butter, softened
1 cup packed brown sugar
1 egg
3/4 cup molasses
1/2 cup of water
4 cups all-purpose flour1
2 teaspoons ground ginger
1-1/2 teaspoons baking soda
1-1/2 teaspoons ground cinnamon
3/4 teaspoon ground cloves
1/4 teaspoon salt
Cookie frosting in the colors of your choice. 2
PLUS:
1/2 gallon of Softened (spreadable, not runny) vanilla icecream
Part 1: The Icecream
Find two, small sheet pans that will fit in your freezer. In each wax paper-covered sheet pan, spread softened, vanilla icecream, about an 1/2 inch thick. Cover with wax paper and refreeze it overnight.  Make sure your freezer is set to its coldest setting for optimal results.
Part 2: The Gingerbread Men
Cream butter and brown sugar until well-blended in a large bowl. Add egg and molasses. In a separate bowl, combine the flour, ginger, baking soda, cinnamon, cloves and salt.  Add this to the creamed mixture and mix well.  After mixed, add water and continue to blend with a rubber spatula.  Using your hands, mold the mixture into a ball and cover with plastic wrap. Refrigerate for 4 hours or overnight.
On a lightly floured surface, roll dough to 1/8-in. thickness. Cut with floured, large (adult-hand-sized), metal gingerbread man cookie cutters. Carefully place 1 in. apart on parchment-lined baking sheets.
Bake at 350° for 9-11 minutes or until edges are firm.  Cool each cookie on wire racks.  Decorate cookies as desired and let dry according to your icing directions.
Yield: about 20 gingerbread men.
Part 3: The Icecream Cookie Sandwich
When ready to serve, pull one, icecream pan from the freezer at a time, which was prepared in Part 1 of this recipe.  Remove the top wax paper and then using the metal gingerbread man cookie cutter, cut out individual, icecream men and place each one between two gingerbread cookies and press lightly to make a sandwich. The icecream should adhere to the cookie cutter to make for easy removal. Serve immediately.  One pan yields three sandwiches.
If storing, place each one in a quart-size, freezer bag and stack into a gallon freezer bag.  Store the remaining cookies without icecream in a resealable storage container. Remember, you can still use any left over icecream by using a smaller cookie cutter to cut out icecream shapes and serve with a topping.
In the end, I hope you will have perfect Gingerbread Men Icecream Cookie Sandwiches that weren't ruined by inner or outer circumstances. Since these are so large, they are great for sharing.  Enjoy!
Cite this article: Please update the Accessed or Retrieved date (September 13, 2015).
MLA
Chicago
APA
About the Author
More Posts by This Author
Chariot, B. (Ed.). (2015, December 7). Perfectly Cut in Christ. Retrieved September 13, 2015, from https://awomansaved.com/25-days-of-christmas-devotionals-perfectly-cut-in-christ/.
Thank you for reading!
Bobbie Chariot
Bio: Founding Editor